Nothing is worse than a confusing billing process. As a non-emergency medical transportation company, you rely on claim reimbursements to make your profit. So when claims come back rejected, denied, or underpaid, you're forced to wait even longer for your check—or worst case scenario, you aren't paid at all. Our Claimgenix Medicaid billing software solution is the best way to ensure a smooth insurance claim process. Check the status of your claims, look back at records, and file a billing appeal at any time. By simplifying claim management and billing, our software reduces inaccuracies for more clean claims and reimbursements.
Our Medicaid billing webportal is filled with features to make your billing process seamless. Billing services include filing claims, checking on payment statuses, retroactive billing, and Medicaid balance billing. With Claimgenix, there's no need to stress about incorrect claims, because the software checks for errors before submitting. Enjoy the ease of billing Medicaid with Claimgenix.
Daily Auto Update
As soon as there is information from your payer – you will know about all updates
Intelligence Reporting
Get custom reports to review your business's performance. 
Data Imports
No more stressing over incorrect data entry. Download and automatically import claim information in minutes.
Error Check
Claimgenix scrubs EDI claims before submitting, so you don't have to worry about fixing incorrect data later.
Medicaid Billing Software is available in:
Our modern, easy-to-learn solution streamlines your billing operation. Avoid long hours spent on the phone and filing paperwork with our fully automated billing software service. Check out these incredible advantages below:
Premium Support
Our expert team offers continuous support while you use our product. We're available 24/7 to answer any questions you have. 
All-in-one Solution
Our software is available anywhere there's Internet, so you're not limited to where you can bill or what device you bill on. 
Easy-To-Use Client
Our Medicaid billing EDI software is easy to learn and operate.
Web-Based Portal
Access Claimgenix from your web browser—no downloads or installations needed!
Flexible Implementation
Claimgenix can be integrated with your existing platform for easy transfer of data.
Security
All patient information is kept confidential with our EDI HIPAA-compliant software.
Difficulties with Billing Medicaid
Medicaid billing isn't just time-consuming—it's fairly complicated. Because each state has its own set of codes for billing, it can be difficult to ensure all information is correct when entering data manually. And it only takes one small mistake to receive a rejected, denied, or incorrectly paid claim. Below are a few common reasons claims aren't accepted:
Incorrect provider and/or patient information

Mismatched medical codes

Leaving out codes for procedures and diagnoses

Incomplete documentation from a healthcare provider

Duplicate billings
But with Claimgenix, you don't have to worry about those inaccuracies. The software scrubs claims for errors and fixes them before submitting, so you spend less time dealing with discrepancies and get paid faster—a win-win situation for your business!
Request a Demo
Don't spend another day stressed out over insurance claims. Request a free demo today to learn more about our Medicaid insurance billing software.
Request a Demo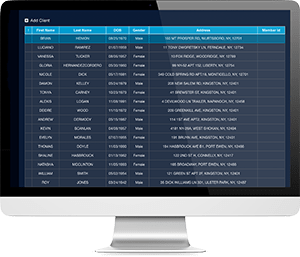 Why Use Medicaid Billing Software? ⭐
Medicaid billing software reduces claim errors and saves billers time and money by automating the entire medical billing process. ✅
What are the advantages of claimGENIX software? ⭐
Claimgenix saves providers time and money while speeding up the billing process overall. We also offer 24/7 customer support. ✅