Dentist offices deal with hundreds of claims every week. This means that without an efficient process, billers could face errors that result in rejections and denials.
Our dental billing software automates the whole billing process to eliminate errors and improve your business.
Claimgenix quickly identifies any claim errors before they're sent off, so billers can resolve any issues before submitting.
Claimgenix is both affordable and practical, making it a must-have tool for dental billers.
Find out how you can save money with Claimgenix
COMMON PROBLEMS WITH DENTAL BILLING
Dental billers have incredibly difficult jobs. With so many patients receiving cleanings, surgeries, and treatments each day, billing for appointments can become confusing very quickly. And, if a dental practice is using outdated software or handling claims manually, they're almost certainly going to run into errors, leading to lost time and profit.
One little mistake might not seem like much, but when you look back on your numbers for the year, you could find that all these small mistakes added up to a huge problem—one we're guessing your business isn't interested in finding.
The following are just a few of the many issues that come with manual billing:
Incorrect provider and/or patient information
Mismatched medical codes
Missing codes
Incomplete documentation from a healthcare provider
Duplicate billings
Claimgenix can eliminate these errors.
TALK TO CLAIMS SPECIALIST
DENTAL BILLING DOESN'T HAVE TO BE HARD
Some days you're drowning in claims, and it seems like there's no easy way to handle your dental billing. But the truth is, software makes the whole process both faster and simpler. Claimgenix makes it possible to track payments in real time, so you can see what claims have already been paid, and which ones are still pending.
Since you deal with a variety of payers, Claimgenix is designed to seamlessly submit claims to multiple payers. Plus, there's no need to worry about rejected or denied claims flooding your inbox, because our system scrubs each claim for inaccuracies before it's sent off.
BILL WITH EASE
FEATURES
Dental patients depend on your practice to provide them with the best service, but they also rely on you to quickly and accurately submit their billing claims.
Our software is chock-full of features that makes handling even the most complex claims a breeze.
From automatic error checks and custom reports to billing multiple payers, Claimgenix has everything dental billers need to thrive.
BILL YOUR CLAIMS WITH ERROR
Daily auto update

Updated information is sent daily.

Data import

Automatically download and import claim information.

Intelligence Reporting

Customize the way you view your reports.

Error Check

Every single claim is scanned for errors before it's sent.
ADVANTAGES
Easy dental billing: is it just a fairytale?
You might dream of stress-free billing after a long day at the office, and Claimgenix is here to make that dream a reality.
Our high-powered, modern dental billing platform makes it easy to bill from virtually anywhere, all in a matter of minutes. Automate data entry, check for errors, and get custom reports to review your data.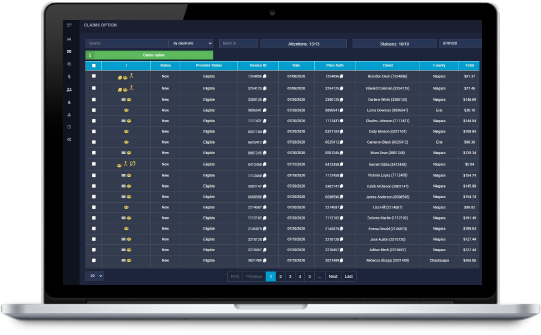 The choice is clear: our Claimgenix medical billing and coding software is the product you need to get billing done the right way.
All-in-one Solution

Bill multiple payers from anywhere there's Internet, on any device.

Premium Support

We offer 24/7/365 support to all of our customers.

Easy-To-Use Client

Our dental billing software is simple to use. Our implementation team makes sure you fully understand the product before you begin using it.

Flexible Implementation

Seamlessly transfer your existing data to Claimgenix for effortless implementation.

Web-Based Portal

No downloads or installations required! Log onto your account from anywhere and pick up where you left off.

Security

Our system is HIPAA-compliant, so all of your data is safe and secure.
WHY CLAIMGENIX DENTAL BILLING SOFTWARE?
You're constantly looking for ways to improve your practice, and we're always working on bettering our software for clients. Our dental billing software will change the way you bill, making your job easier and saving you time and money.
You deserve better billing. Book your free Claimgenix demo today.