Medical Billing Software
Claimgenix is a comprehensive solution for your NEMT and Homecare companies
REQUEST A DEMO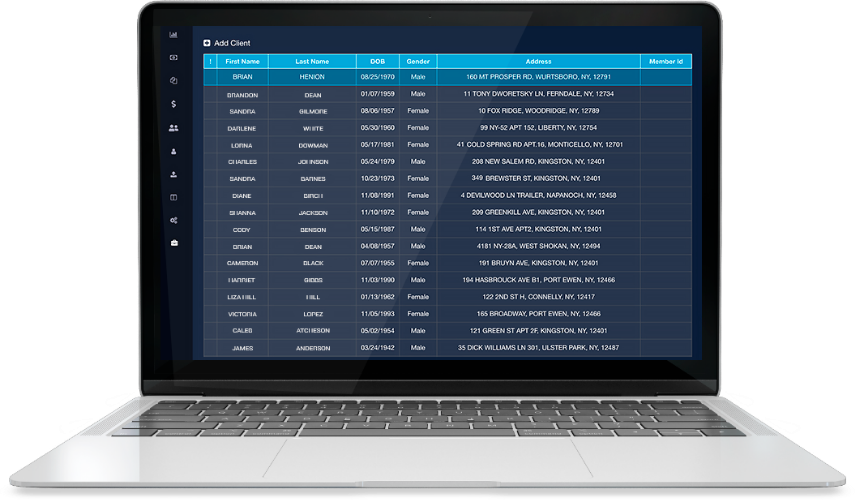 If you're tired of dealing with faulty, cheap medical billing software, it's time to move on to the product you deserve. Claimgenix is designed to ease the stress providers face while billing claims. Our top-tier, automated system accomplishes that by billing claims faster and improving reimbursement rates—two things you depend on for success.
Rejected, denied, and incorrectly paid claims can slow your business down, so Claimgenix reduces the chance of sending out error-filled claims. The software scans for errors before submitting claims and notifies you of any information that needs correcting. Unreliable billing methods will only hurt your business. Commit to better billing with the best medical billing software around—Claimgenix.
Optimize your operations and save time and money with Claimgenix.
The Benefits of Medical Billing Software
Our Medical billing software is a web-based application that automates the insurance billing process for providers. Medical billing software for billing companies improves reimbursement rates, increases productivity, and helps sustain financial optimism in the long run. From scheduling appointments to receiving payments, Claimgenix helps ease every part of billing with an electronic process. Plus, since everything is automated, you'll always know when claims will be submitted and paid, and you're less likely to fall behind schedule.
When an appointment is scheduled, our software makes it easy for staff to check a patient's eligibility instantly. They can then send that information immediately to the providers, so there's no back and forth communication or long wait times for response. Once an appointment, visit, or trip is finished, billers already have all the data they need saved in the software, where they can then scrub every claim before submitting to ensure no incorrect information is processed. Once a claim is processed, providers will be able to check the status of it at any time and will receive their payment on time and without issue. Further, billing software offers more useful insights through intelligence reports, so you can better understand the revenue cycle as you continue to bill claims.
Medical billing software is built to streamline your operation with a variety of helpful features. While the price of software varies, you likely won't want to settle for the first low-cost option you find. Billing software is a worthwhile investment that is guaranteed to help your business thrive. Claim scrubbing is a huge advantage that is included in software like ours. It's a great way to improve your chances of submitting clean claims the first time around rather than receiving rejected, denied, or incorrectly paid claims that will set you back. Plus, Claimgenix lets you bill claims to over 8,000 payers through a single interface, so everything you need is in one place.
Cloud-based software is a must in today's fast-paced, digital-dependent world. Not only does it allow providers to bill from anywhere, on any device—it also means general maintenance and updates are handled by the software company, so providers can focus on billing claims efficiently and getting paid. Downloadable software comes with its own setbacks and irregularities, and manual billing is an even bigger risk. Insurance billing is far too important to leave up to chance. Read on to see how Claimgenix helps you achieve your goals and improve your business every day.
TALK TO CLAIMS SPECIALIST
Capabilities
A reliable medical billing software should have a host of capabilities that benefit your business. Claimgenix has the ability to streamline your work by managing your responsibilities in one place. If you need to bill different payers, Claimgenix lets you bill more than 8,000 within the platform. Plus, our product is great for a variety of healthcare industries including NEMT, homecare, and other medical practices. We cater to a large audience, so we made sure to include everything your business may need, whether you have years of experience under your belt or are just getting started. We service companies in every state and recognize varying laws and guidelines used across the country.
Don't try to handle medical billing on your own. Let us do the hard work for you.
Bill Multiple Payers

Dealing with more than one payer? No problem. Claimgenix has the ability to submit claims to over 8,000 different payers, all within a single platform. Conveniently bill multiple payers with our software.

Medical Billing

Medical billing can be a hassle—but not with Claimgenix. Our software understands what codes and data are needed in each claim and checks for errors before submitting, so you can count on clean claims every time.

Suitable for Different Industries

We offer medical billing software for a variety of industries including non-emergency medical transportation, healthcare, and homecare. Our software is suitable for both big and small businesses.

Search by State

Looking for information about our product in your state? Use our search by state feature to easily find your location and learn more about what we offer.
FEATURES
You're in the business of helping people, so our software is designed to help you.
We pinpointed NEMT companies' top billing needs and loaded our software with features to make your job easier.
From automatic updates and imports to custom reporting and error checks, Claimgenix has everything an NEMT company needs for a seamless, stress-free billing experience.
BILL YOUR CLAIMS EFFICIENTLY
Daily auto update

As soon as there is information from your payer - you will know about all updates

Intelligence Reporting

Get custom reports to review your business's performance, so you can see where you're excelling and where you need to improve.

Auto Data Imports

Automatically download and import claim information

Error Check

Don't worry about sending error-filled claims out -Claimgenix reviews for errors and inconsistencies and fixes them for you
ADVANTAGES
When you have an important task to complete, you want to get it done the simplest, fastest way possible. Claimgenix is an easy-to-use software for medical billing—and we strive to make billing an easy part of your daily workload. We know you handle dozens of claims each day, and that amount of data can be overwhelming without the right software. Our product comes with all the tools your billing operation needs to succeed, including a reliable error check, flexible implementation, and a web-based portal—so you can bill error-free claims from anywhere, on any device! Gone are the long days at your desk, sorting through piles of paper claims. Take Claimgenix with you wherever you are and bill when it's most convenient for you. Plus, since electronic claims are paid before paper ones, you'll receive reimbursements faster than ever before! The choice is clear: our Claimgenix medical billing and coding software is the product you need to get billing done the right way.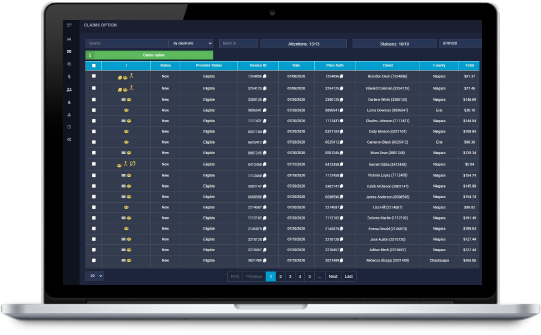 The choice is clear: our Claimgenix medical billing and coding software is the product you need to get billing done the right way.
All-in-one Solution

Our software is available anywhere there's Internet, so you can bill claims on your desktop, laptop, smartphone, or tablet, wherever you find yourself!

Premium Support

From implementation and beyond, our expert team is available 24/7 to offer continuous support and answer any questions you have about our product.

Easy-To-Use Client

A fancy, high-tech software isn't useful if it's impossible to understand. Our software is easy to learn and operate, so you'll be billing claims in no time.

Flexible Implementation

Our implementation manager will teach you to use our software and make sure you're comfortable before diving in. Claimgenix can be integrated with your existing billing platform for easy transfer of data.

Web-Based Portal

Access our cloud-based software directly from your online web browser—no downloads or installations needed! Find Claimgenix on any Internet-enabled device including laptops, tablets, and smartphones.

Security

All patient information, including phone numbers, addresses, and other important data, is kept confidential with our HIPAA-compliant medical billing software program.
WHY CLAIMGENIX?
Our Claimgenix medical billing software is designed to help billing companies succeed. We know that getting payments submitted and reimbursed on time is the most important factor in your business's success. Claimgenix is built to do just that. You'll save time and money with our electronic billing format, which scrubs and submits claims in minutes, so you don't spend your day stressing over proper billing codes and data.
Claimgenix allows you to review the status of your claims at any points, and if any incorrect information is detected, you'll be notified immediately so you can make the necessary changes. These tools will help you feel in control of your operation and its financial health and will make you wonder why you didn't switch to automated software sooner. Billing insurance claims can be a hassle, but it doesn't have to be. See what Claimgenix can do for your business today.
Don't let the manual billing process slow down your business any longer. Request a free Claimgenix demo today.