Homecare providers work hard every day to provide the best care to their patients, so we offer a top-tier billing solution for their services.
After a long day of providing crucial care to patients, we believe homecare providers deserve a simple, efficient billing process. Claimgenix streamlines billing with an automated process that checks for claim inaccuracies before submitting.
Your job is hard enough. Don't let an inaccurate billing process make it harder.
Optimize your homecare business. Earn huge savings with Claimgenix.
Homecare billing challenges
Homecare providers don't have easy jobs. They're constantly searching for the right way to offer meaningful care while juggling staffing, billing, and other behind-the-scenes responsibilities. With so much to keep track of, it's nearly impossible to bill patient claims effectively by hand
It only takes one small error to consider a claim rejected or denied.
Incorrect insurance or patient data, mismatched and missing codes, incomplete documentation, and duplicate billings are all common mistakes that can be prevented with the right software.
We know a thing or two about powerful billing platforms.
TALK TO A BILLING EXPERT
See the difference a reliable billing platform makes
Handling your claims on paper won't save you an extra buck—in fact, it will almost certainly be the reason you start losing money. Claimgenix doesn't let that happen. Our software examines every single claim before it's sent, so you know right away if there's an inconsistency that needs your attention.
Claimgenix doesn't just prevent errors. It's also versatile and compatible with 8,000 different insurance payers. So, the next time you find yourself stressed out over billing, remember that there's a solution to ease the process.
ENHANCE YOUR BILLING
FEATURES
A high-powered software isn't helpful if it doesn't completely turn your business around. Ours does. We built our product with homecare providers in mind, so when you bill with Claimgenix, you commit to a stress-free, error-free experience.
Learn more about better billing
Daily updates

If there are any updates from your payer, you'll know right away.

Intelligence Reporting

Receive custom reports to better analyze your company's earnings.

Automatic data import

It's easy to download claim information in minutes.

Error Check

No claim is submitted without being scrubbed for errors.
ADVANTAGES
Nothing is more exciting than finding a simple solution to an otherwise difficult task. When it comes to homecare billing, maybe you're tired of rejections and denials. Maybe you hate being stuck at your office desk all day. Whatever the case, Claimgenix introduces a simplified way of billing. Check out some of our advantages below.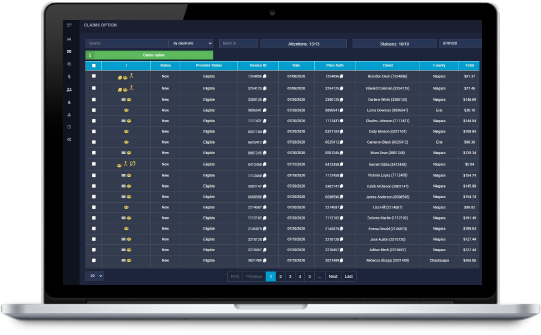 The choice is clear: our Claimgenix medical billing and coding software is the product you need to get billing done the right way.
All-in-one Solution

Bill 8,000+ different payers. Get notified of any errors and have reimbursements in your pocket on time.

Premium Support

Support is available 24 hours a day, 7 days a week for all customers.

Easy-To-Use Client

Our software isn't difficult to learn, so once you're trained by our specialists, you'll be ready to go.

Flexible Implementation

Your existing data can easily be transferred to Claimgenix for a seamless implementation experience.

Web-Based Portal

Access your Claimgenix account online—no third-party application needed.

Security

HIPAA compliant for safe and secure data transfer and storage.
What's stopping you?
Don't put off better homecare billing for another day. There's never been a better time to try out Claimgenix.
Decrease errors, spend less time billing, and handle your claims wherever you are, on the device that works best for you.
Find out how Claimgenix changes the way you bill. Book your free demo today.