If you work in the healthcare industry, you know how important it is to protect patient data. Whether you work in a hospital, doctor's office, dentist's office, specialty care office, or any other healthcare setting, your business has to be HIPAA compliant at all times. Why? We're here to break that down a little further. So, if you work in the industry, or as a patient you're simply curious about HIPAA and its implications, check out our analysis of the program and what it means for healthcare providers.
What is HIPAA?
HIPAA, or the Health Insurance Portability and Accountability Act, is best known for its ability to protect the privacy and personal data of patients at healthcare practices. It makes sure that every patient's Protected Health Information (PHI) is stored in a safe and secure manner to prevent fraudulent scenarios. It sets guidelines for how providers and their entities store and manage sensitive data, while constantly adapting to stay up-to-date with the times.
What is HIPAA compliance?
HIPAA compliance is exactly what it sounds like—it means that businesses that fall under HIPAA regulations follow the legal rules set forth by HIPAA in order to protect their business and their employees. This is a process that may require constant adjustments in order to keep up with a changing industry, but it's crucial in order to protect patients' information and the digital space in which that information lives.
Requirements for HIPAA compliance in 2022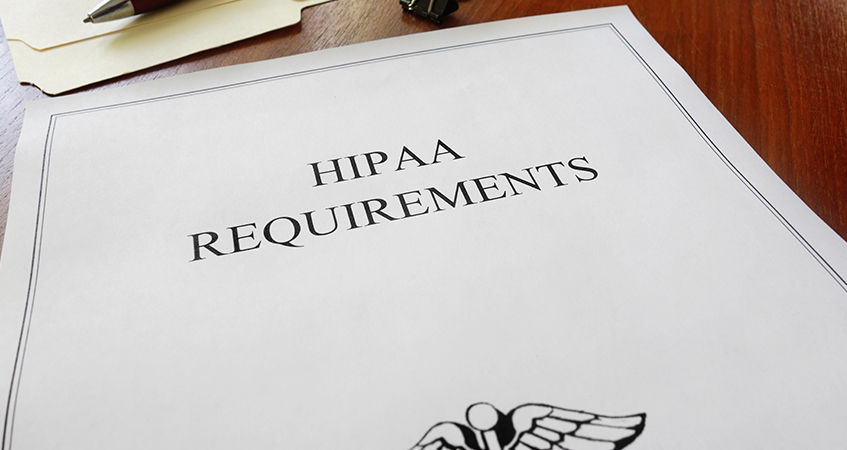 According to the HIPAA Journal, the following checklist is an up-to-date guideline on how healthcare providers can make sure they're remaining HIPAA compliant at their practice:
Determine which annual audit applies to your business.
Conduct the audit.
Document your plans to improve, and then put those plans into action.
If you don't already have one, appoint a HIPAA compliance officer.
Have the HIPAA compliance officer conduct an annual training for your staff.
Have your staff attest to having received training and guidance on HIPAA rules.
Make sure your staff knows how to report breaches in HIPAA regulations.
Why does HIPAA compliance matter in the healthcare industry?
Being HIPAA compliant is imperative for healthcare providers in the United States. As the healthcare industry shifts its record keeping and order procedures to an electronic process, HIPAA compliance is more important than ever. Data hackers will stop at nothing to try to steal useful patient data, so following HIPAA guidelines and investing in top-notch security safeguards is absolutely vital in today's landscape.
The consequences of breaking HIPAA regulations
If your business actively chooses not to follow HIPAA guidelines or ends up in a situation where HIPAA rules are broken due to negligence, your company could face serious fines. Penalties may range from $100 to as much as $50,000 for a single violation, with a maximum penalty of $1.5 million per year. Some violations may also come with criminal charges and jail time. The cost of these violations may seem intense, but that's because a patient's personal health information is extremely valuable—especially to cyberattackers looking to steal it. Hackers have gotten smarter, but security measures have also gotten better. To this point, your business has the ability to prevent data breaches. Investing in reliable security measures and following HIPAA guidelines every day will allow you to do so.
How to ensure HIPAA compliance at your company
Now that you know HIPAA compliance is a requirement, not a choice, you're probably wondering how you can best adhere to the guidelines at your business. The good news is, it's not difficult. Following HIPAA guidelines isn't some test for providers to stress over, it's simply the way healthcare entities have to exist in order to safely achieve their goals. The following are some of the ways your business can make sure it's following HIPAA guidelines every day.
Develop a cohesive privacy policy
You need a privacy policy at your company—no exceptions. This policy should set a good foundation for how employees can provide quality patient care, reduce mistakes, and ultimately understand how to handle sensitive data on a day-to-day basis. When your policy has been created, it's important to relay the information to your staff and get their acknowledgement that they understand it fully. This policy can and should be adjusted as needed. Remember that any time a change is made, your staff must be informed of the changes.
Create dedicated training sessions
Ongoing education is an important part of running a strong healthcare operation. The problem with holding one, overarching training twice a year or exclusively for new employees is that it doesn't account for the fact that things are constantly changing. New employees are beginning their careers at your company while others are getting ready to go elsewhere; varying levels of patient care are needed; new treatment methods are introduced. Your employees are going to have questions, so rather than letting them scramble to find answers on their own, it's important to hold periodic training sessions for your staff.
Invest in HIPAA-compliant billing software
Billing software is one of the best investments you can make at your healthcare practice. Cloud-based medical billing software automates your entire billing process for a faster, more accurate billing operation. When you invest in HIPAA-compliant software at your business, you also get top-notch security to protect your business's data and your patients' personal information. Software isn't technically a necessity, but it's an added layer of protection for your sensitive information—one that, in the end, could be the difference between a breach in security and a safe database.
Book your free Claimgenix demo today
If you're serious about HIPAA compliance, you need billing software. Before you make an impulse decision and commit to a system, make sure you see the product in action, so you can decide whether it's a right fit for your business or not. Claimgenix offers free demos for anyone who's interested—if that's you, sign up for yours today!
How Medical Insurance Billing Software helps you? ⭐
Billing claims by hand can take hours, but submitting claims with software takes only minutes. Plus, claims are submitted without error thanks to the Claimgenix error check! ✅